PROGRAMS
At The Bougainvilla House Family Therapy Center, we provide behavioral health and substance use programs to help your family regain purpose and return to the path of realizing full potential.
GET STARTED NOW
HOW WE CAN HELP
We provide a safe space for healing and hope to help you achieve your goals. Our clients learn how to effectively manage and cope with their thoughts, emotions, and behaviors.
FULL COLLABORATION
Our therapists work closely with clients and their families to provide support and guidance through every step. Our clinical team collaborates with clients to identify and utilize strengths and resources and focus on behavioral health and/or substance use goals. We use a tailored therapeutic approach to discover what works well for each client and their family.
CONTINUED SUPPORT
Here at The Bougainvilla House, we love visits from clients who have utilized our services! We love to know how our clients are doing and welcome them back anytime for a follow-up session if they feel they need it or just a visit to say hi.

BEHAVIORAL HEALTH TRACK
Our behavioral health track is an option if you are having any behavioral or emotional struggles and are not experiencing any problems related to substance use.
THERAPY SESSIONS
Therapy services typically consist of one to two one-hour therapy sessions per week, depending on the initial consultation and what you and your family are experiencing. These appointments could be individual, couple or family therapy appointments. You and your therapist will decide together what will be most useful.
Our adolescent behavioral health programs consist of individual, couple and family therapy sessions specializing in the following areas:
Relationship Problems
Anger Management
Life Transitions
Life Coaching
Anxiety
Goal Setting
Stress Management
School or College-Related Problems
Self-Esteem
Depression
Communication
Work-Related Problems
Family Conflict
Social Skills
Daily Life Stressors
Peer Relationships/Influences

SUBSTANCE USE TRACK
Our substance use track is a therapeutic option for someone who is primarily using and struggling with alcohol or drugs.
INDIVIDUAL & FAMILY SESSIONS
Therapy services consist of at least two one-hour therapy sessions per week. These appointments will most likely be either individual sessions twice per week or a combination of individual/couple/family therapy appointments, depending on the problem and who the services are for.
GROUP THERAPY SESSIONS
Teens 18 years or under who are primarily dealing with substance use issues may attend group therapy in addition to your family or individual therapy sessions each week.
We offer three group therapy sessions every week, and each session is three hours. Weekly urinalysis drug testing is available to monitor usage.
Based on need, our clinicians may recommend that your teen attend all three group therapy sessions per week.
Our clinical team provides informative and educational workshops and presentations to facilities and schools in the tri-county area. We offer educational presentations on a variety of behavioral health and substance use topics to assist you and your staff in providing the best care possible.
Contact us for more details or to schedule a presentation at your facility or school.
PSYCHIATRIC SERVICES
Psychiatric evaluations are available to clients enrolled in any of our programs. Our psychiatrist provides evaluations and medication, as medically necessary, to our clients every two weeks.
SUPPORT GROUPS
We collaborate with many renowned recovery groups, including Alcoholics Anonymous, Narcotics Anonymous, and Al-Anon Family Groups.
COURT LIAISON SERVICES
We work closely with the following Broward County Courts:
MISDEMEANOR DRUG COURT
Substance use evaluations and services, in addition to reporting a clinical summary of client progress upon client request and permission.
JUVENILE DRUG COURT
We accept referrals from case managers, attorneys and families to provide substance use services. We provide clinical summaries of client progress upon client request and permission.
MARCHMAN ACT COURT
Assist clients with services and provide clinical summary of client progress upon client request and permission.
Our caring staff are standing by to discuss your individual circumstances and needs. Services may also be covered in full or in part by insurance.
PAYMENT
Private Self-Pay
Sliding Scale
Insurance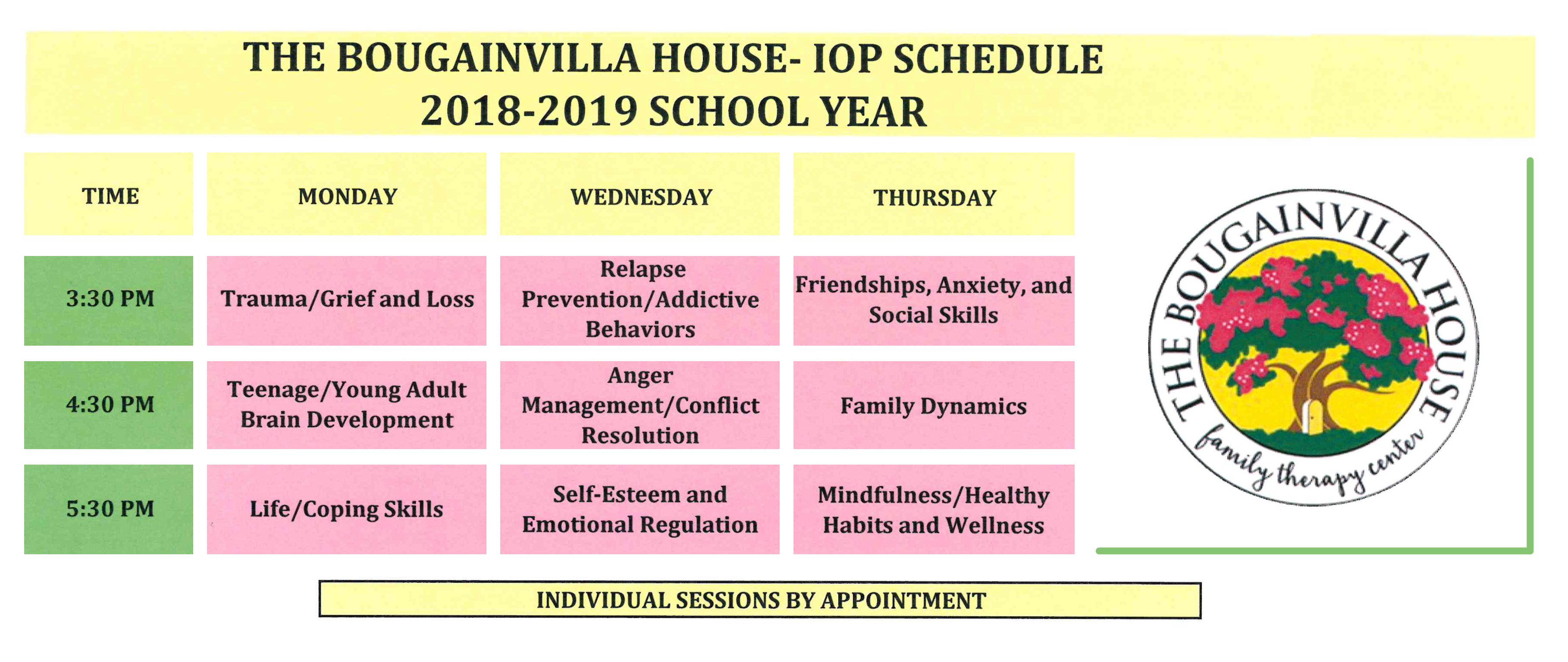 SCHEDULE AN APPOINTMENT
Our counseling office is open every day from 10 a.m. to 8 p.m. Our business office is open M-F, 8:30 a.m. to 6 p.m.